CENTRO DE NANOTECNOLOGIA E MATERIAIS TECNICOS FUNCIONAIS E INTELIGENTES ASSOCIACAO (CENTI)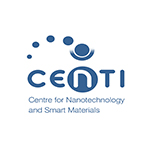 CENTI, the Centre for Nanotechnology and Smart Materials, is a private, non-profit research institute, placed in Portugal, equipped with cutting-edge technology and conducting world-class R&D. CeNTI provides, in a business to business approach, applied R&D, engineering and scaling-up production of innovative functional & smart materials and devices. CeNTI's mission is to guide RTD activities through industry-driven solutions, with the aim at contributing to the evolution of the Industry through development of micro/nanotechnologies and functional/smart materials, and by means of knowledge creation and diffusion, promotion of technology integration and development of technological
intervention strategies.
Currently, CeNTI has been involved in more than 170 industry driven projects (financed by European and national programs or directly by industry), has 28 active patent families (as owner, co-owner or staff inventor), counts with around 90 scientists and engineers of different backgrounds in about 2600 m2 labs and process facilities.
ROLE IN THE PROJECT:
CeNTI will be responsible for the implementation and validation of ASINA's SbD Management Methodology (SMM). This will include the evaluation of the nano-enabled products' (NEPs) value chain, comprising the identification of the safety hotspots during the production stages and the evaluation of the performance of the end products during its lifetime.
CeNTI will also be involved on the identification of the relationship between physical-chemical properties of the nanomaterials and its functionality.