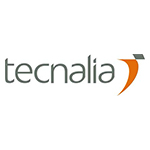 Fundación TECNALIA Research & Innovation (TECNALIA) is the leading private and independent research and technology entity in Spain and the fifth largest in Europe, employing around 1.400 people (225 of whom are PhD holders), with an income of 110 M€ in 2018. TECNALIA is an equal opportunity employer.
TECNALIA is a key agent in the European Research Area, and actively participates in the governing bodies of several European Technology Platforms, PPPs and JTIs (EEB, FOF, SPIRE, ARTEMIS).
TECNALIA has identified nanotechnology as a KET in all of its Business Divisions. In this context, the Nanotechnology Cluster in TECNALIA is a transversal structure, aimed to generate knowledge in nanoscience and nanotechnology. The Cluster groups 116 researchers from the six Business
Divisions, mainly PhDs (60%) in different fields (chemistry, physics, biology, engineering, etc). Its R&D activities span the industrial value chain from nanomaterials (e.g. graphene, nanocellulose, nanoparticles, nanofibers, etc.), to final nano-based products; taking into account the environmental, health and safety (EHS) impacts of nanotechnology.
ROLE IN THE PROJECT:
WP3 Leader (Process design criteria)
Task 3.3 Identifying and developing P-SbD solutions in the re-design of ASINA processes
(Leader)
Task 3.4 Developing the guidelines for the implementation of P-SbD solutions and their transfer
to ASINA roadmap (Leader)