UNIVERSITY MILANO BICOCCA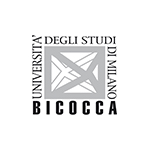 UNIMIB, 24th in the top 100 universities under 50 years old, is active in a wide array of research topics, thanks to its numerous departments and centers of excellence. In UNIMIB, the Research Centre POLARIS, of the Department of Earth & Environmental Sciences, is specialized in the study of the impacts on environment and health of particulate pollution and nanotechnologies. POLARIS integrates and coordinates
expertise in different scientific fields to provide appropriate solutions to the business world, public and research institutions. The advanced skills in environmental monitoring, in environmental and health impact of nanotechnologies and in the assessment of environmental sustainability in different
environmental scenarios, mainly related to airborne and waterborne contamination, make UNIMIB highly suitable to address the tasks of the present project.
ROLE IN THE PROJECT:
Leader of WP2 (SAFETY DESIGN CRITERIA)
WP4: gathering and harmonization of data from ASINA and from external projects
WP5: contribution to general roadmap.
WP6 Dissemination and communication
WP7: participation to the project coordination & management